Encore Beach Club at Encore Hotel vs. Wet Republic at MGM Grand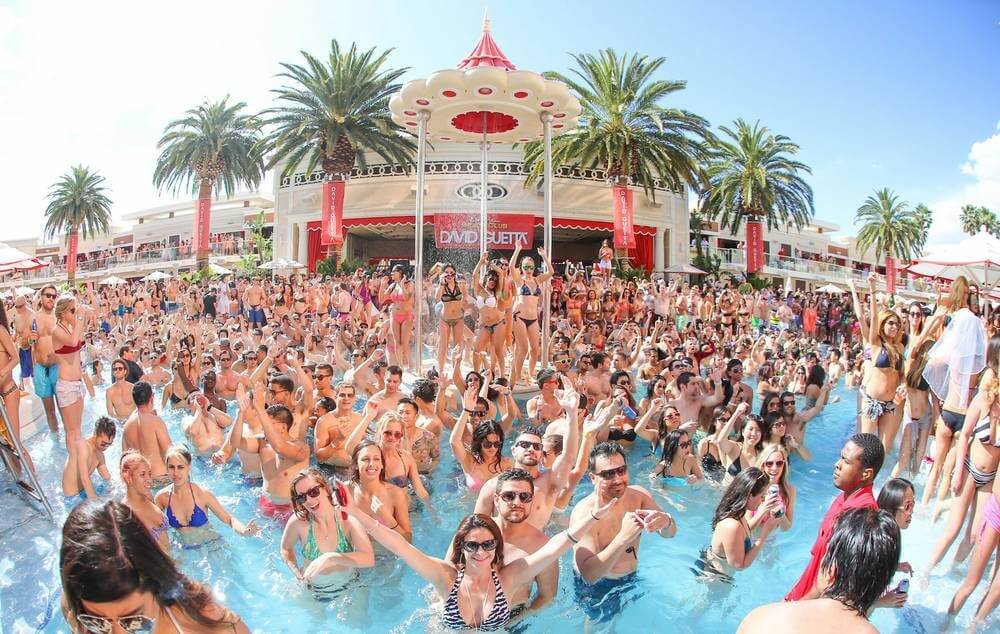 The Pool Party Punch Out!
Encore Beach Club (EBC) or Wet Republic, the pool party decision that almost everyone faces. These are the two titans of pool parties and the biggest and best in the world. If the funds are there most people end up doing both. But what if there's only enough time or money for one? Which one should you spend that hard-earned drug dealing money at? Well lucky you, we here at Nightlife Unlocked are ready to answer the unanswerable questions. We will rate them based on entertainment/ dj's, cabanas, price point, and overall ambiance. Full disclosure we have no skin in this game. So rest assured this comparison is completely devoid of any bias, loyal reader. Without further ado, we hope to finally answer which is better Encore Beach Club (EBC) at the Encore Hotel or Wet Republic at the MGM Grand.
Entertainment/DJs:
Much like guys at a strip club, this was a hard one. Both EBC and Wet have an incredible roster of DJ's. EBC has the Chainsmokers, David Guetta, Diplo, Afrojack and on and on. But for every Diplo, Wet has a Calvin Harris, Tiesto, Zedd, and Steve Aoki. However, EBC has recently gotten more creative with its marketing events. EBC has thrown block parties, it is open at night, and recently they've brought European branded hedonistic party throwers Elrow. While over at Wet they're still stuck throwing the same Hot 100 waiter… err… model contest that has been around for over ten years. So for this one, we have to give it to EBC for its creativity and originality.
Point: Encore Beach Club
Cabanas:
We decided to compare these because cabanas are the most requested spots in both places. Everyone wants a cabana. EBC has four levels of cabanas; first and second-floor cabana, and a first and second-floor Bungalow. The second-floor cabanas and bungalows are smaller than the first floor. And although the bungalows are larger and both feature a private bathroom only the first-floor bungalows have a private pool. And there are only four Bungalows with the private pool. Wet Republic, on the other hand, features over 12 Bungalows with private pool, and 10 party cabanas. So for this one, hands down the better cabanas are at Wet Republic.
Point: Wet Republic
Price:
Price at both EBC and Wet are very fluid as they vary depending on date and entertainment. Cabana prices at both places are about the same as well as bungalows, lilypads, daybeds, dj tables, and couches. Although they fluctuate, the prices are within a few hundred of each other. They also both charge the same for tips and venue/ entertainment fees. So for this one, we're going to call it a tie. They both hover around the same prices and they both even go so far as to place big name dj's on the same dates.
Point: Even Steven, you're going to pay about the same regardless of where you go.
Ambiance:
In this category, EBC has an edge in the sound department as it was specifically designed to maximize acoustics. World-renowned designer Roger Thomas created EBC. This is evident in its swooping architecture and its ornate design. Wet has spots where the sound doesn't quite reach and its design is a relic of a simpler era. So for this one, we have to give it to Encore Beach Club.
Point: Encore Beach Club
Conclusion: With both pool party titans having their pros and cons Encore Beach Club beats Wet Republic by a slim margin. But the reality is that both places are incredible and for every person that prefers EBC another will love Wet. So take our opinion as just that and don't be afraid to tell us which you prefer in the comments below.
Make your plans by visiting Nightlife Unlocked and Hotels Unlocked.
Want up to 40% on Hotel Discounts? CLICK HERE