BEACH COUCHES
FOR 6 PEOPLE
FRIDAY
| | |
| --- | --- |
| Subtotal: | $1,000 |
| Taxes & Fees: | $292 |
| Gratuity: | $200 |
| Total: | $1,492 |
| Pay Now: | $60 |
| Due on Arrival: | $1,432 |
SATURDAY
| | |
| --- | --- |
| Subtotal: | $2,500 |
| Taxes & Fees: | $662 |
| Gratuity: | $500 |
| Total: | $3,662 |
| Pay Now: | $100 |
| Due on Arrival: | $3,562 |
SUNDAY
| | |
| --- | --- |
| Subtotal: | $1,000 |
| Taxes & Fees: | $251 |
| Gratuity: | $200 |
| Total: | $1,451 |
| Pay Now: | $60 |
| Due on Arrival: | $1,391 |
FRIDAY
| | |
| --- | --- |
| Subtotal: | $1,500 |
| Taxes & Fees: | $422 |
| Gratuity: | $600 |
| Total: | $2,522 |
| Pay Now: | $80 |
| Due on Arrival: | $2,442 |
SATURDAY
| | |
| --- | --- |
| Subtotal: | $2,500 |
| Taxes & Fees: | $662 |
| Gratuity: | $500 |
| Total: | $3,662 |
| Pay Now: | $100 |
| Due on Arrival: | $3,562 |
SUNDAY
| | |
| --- | --- |
| Subtotal: | $2,500 |
| Taxes & Fees: | $662 |
| Gratuity: | $500 |
| Total: | $3,662 |
| Pay Now: | $100 |
| Due on Arrival: | $3,562 |
FRIDAY
| | |
| --- | --- |
| Subtotal: | $2,000 |
| Taxes & Fees: | $552 |
| Gratuity: | $400 |
| Total: | $2,952 |
| Pay Now: | $100 |
| Due on Arrival: | $2,852 |
SATURDAY
| | |
| --- | --- |
| Subtotal: | $4,000 |
| Taxes & Fees: | $1,033 |
| Gratuity: | $800 |
| Total: | $5,833 |
| Pay Now: | $140 |
| Due on Arrival: | $5,693 |
SUNDAY
| | |
| --- | --- |
| Subtotal: | $2,500 |
| Taxes & Fees: | $577 |
| Gratuity: | $500 |
| Total: | $3,577 |
| Pay Now: | $100 |
| Due on Arrival: | $3,477 |
FRIDAY
| | |
| --- | --- |
| Subtotal: | $2,500 |
| Taxes & Fees: | $662 |
| Gratuity: | $500 |
| Total: | $3,662 |
| Pay Now: | $100 |
| Due on Arrival: | $3,562 |
SATURDAY
| | |
| --- | --- |
| Subtotal: | $3,000 |
| Taxes & Fees: | $783 |
| Gratuity: | $400 |
| Total: | $4,183 |
| Pay Now: | $110 |
| Due on Arrival: | $4,073 |
SUNDAY
| | |
| --- | --- |
| Subtotal: | $2,000 |
| Taxes & Fees: | $482 |
| Gratuity: | $400 |
| Total: | $2,882 |
| Pay Now: | $100 |
| Due on Arrival: | $2,782 |
UPPER CABANA
FOR UP TO 10 PEOPLE
FRIDAY
| | |
| --- | --- |
| Subtotal: | $2,500 |
| Taxes & Fees: | $662 |
| Gratuity: | $500 |
| Total: | $3,662 |
| Pay Now: | $100 |
| Due on Arrival: | $3,562 |
SATURDAY
| | |
| --- | --- |
| Subtotal: | $5,000 |
| Taxes & Fees: | $1,274 |
| Gratuity: | $1,000 |
| Total: | $7,274 |
| Pay Now: | $160 |
| Due on Arrival: | $7,114 |
SUNDAY
| | |
| --- | --- |
| Subtotal: | $3,000 |
| Taxes & Fees: | $683 |
| Gratuity: | $600 |
| Total: | $4,283 |
| Pay Now: | $110 |
| Due on Arrival: | $4,173 |
LOWER CABANA
FOR 12 PEOPLE
FRIDAY
| | |
| --- | --- |
| Subtotal: | $4,000 |
| Taxes & Fees: | $1,033 |
| Gratuity: | $800 |
| Total: | $5,833 |
| Pay Now: | $140 |
| Due on Arrival: | $5,693 |
SATURDAY
| | |
| --- | --- |
| Subtotal: | $8,000 |
| Taxes & Fees: | $2,050 |
| Gratuity: | $1,600 |
| Total: | $11,650 |
| Pay Now: | $275 |
| Due on Arrival: | $11,375 |
SUNDAY
| | |
| --- | --- |
| Subtotal: | $5,000 |
| Taxes & Fees: | $1,114 |
| Gratuity: | $1,000 |
| Total: | $7,114 |
| Pay Now: | $160 |
| Due on Arrival: | $6,954 |
WATER COUCH
FOR UP TO 10 PEOPLE
FRIDAY
| | |
| --- | --- |
| Subtotal: | $4,000 |
| Taxes & Fees: | $1,033 |
| Gratuity: | $800 |
| Total: | $5,833 |
| Pay Now: | $140 |
| Due on Arrival: | $5,693 |
SATURDAY
| | |
| --- | --- |
| Subtotal: | $9,000 |
| Taxes & Fees: | $2,075 |
| Gratuity: | $1,800 |
| Total: | $12,875 |
| Pay Now: | $300 |
| Due on Arrival: | $12,575 |
SUNDAY
| | |
| --- | --- |
| Subtotal: | $4,000 |
| Taxes & Fees: | $1,033 |
| Gratuity: | $800 |
| Total: | $5,833 |
| Pay Now: | $140 |
| Due on Arrival: | $5,693 |
DJ TABLE
FOR UP TO 10 PEOPLE
FRIDAY
| | |
| --- | --- |
| Subtotal: | $4,000 |
| Taxes & Fees: | $1,033 |
| Gratuity: | $800 |
| Total: | $5,833 |
| Pay Now: | $140 |
| Due on Arrival: | $5,693 |
SATURDAY
| | |
| --- | --- |
| Subtotal: | $9,000 |
| Taxes & Fees: | $2,075 |
| Gratuity: | $1,800 |
| Total: | $12,875 |
| Pay Now: | $300 |
| Due on Arrival: | $12,575 |
SUNDAY
| | |
| --- | --- |
| Subtotal: | $4,000 |
| Taxes & Fees: | $1,033 |
| Gratuity: | $800 |
| Total: | $5,833 |
| Pay Now: | $140 |
| Due on Arrival: | $5,693 |
UPPER BUNGALOWS
FOR UP TO 15 PEOPLE
FRIDAY
| | |
| --- | --- |
| Subtotal: | $5,000 |
| Taxes & Fees: | $1,274 |
| Gratuity: | $1,000 |
| Total: | $7,274 |
| Pay Now: | $160 |
| Due on Arrival: | $7,114 |
SATURDAY
| | |
| --- | --- |
| Subtotal: | $9,000 |
| Taxes & Fees: | $2,075 |
| Gratuity: | $1,800 |
| Total: | $12,875 |
| Pay Now: | $300 |
| Due on Arrival: | $12,575 |
SUNDAY
| | |
| --- | --- |
| Subtotal: | $5,000 |
| Taxes & Fees: | $1,274 |
| Gratuity: | $1,000 |
| Total: | $7,274 |
| Pay Now: | $160 |
| Due on Arrival: | $7,114 |
LOWER BUNGALOWS




FOR UP TO 20 PEOPLE
FRIDAY
| | |
| --- | --- |
| Subtotal: | $12,000 |
| Taxes & Fees: | $2,907 |
| Gratuity: | $2,400 |
| Total: | $17,307 |
| Pay Now: | $250 |
| Due on Arrival: | $17,057 |
SATURDAY
| | |
| --- | --- |
| Subtotal: | $30,000 |
| Taxes & Fees: | $7,526 |
| Gratuity: | $1,100 |
| Total: | $38,626 |
| Pay Now: | $900 |
| Due on Arrival: | $37,726 |
SUNDAY
| | |
| --- | --- |
| Subtotal: | $12,000 |
| Taxes & Fees: | $2,907 |
| Gratuity: | $2,400 |
| Total: | $17,307 |
| Pay Now: | $250 |
| Due on Arrival: | $17,057 |
About Encore Beach Club
Home to artists like David Guetta, Diplo, Alesso and Chainsmokers, Encore Beach Club was named Las Vegas Dayclub of the Year by Nightclub & Bar's Top 100. Encore Beach Club features twenty-six cabanas, each stocked with a refrigerator, flat-screen TV, and a plush daybed. Eight bungalows each offer a private bathroom, infinity dipping pool, cooling system, a view of the Las Vegas strip from a private balcony and an exciting oasis-like pool scene.
Encore Beach Club Table Map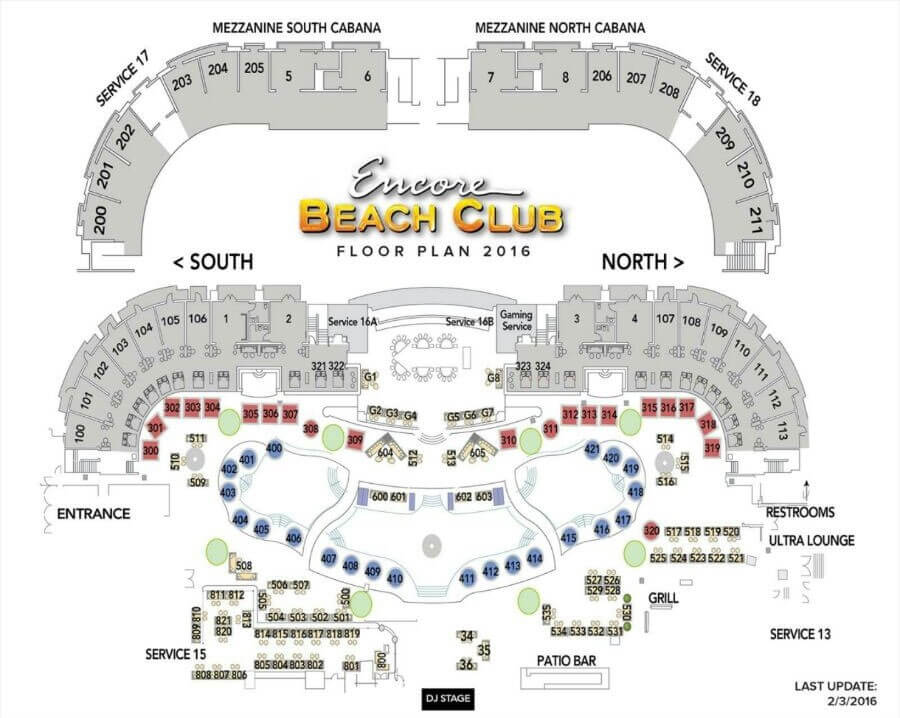 Encore Beach Club Bottle Menu

Need Help?
We are more than happy to assist you. Our team is available via phone and live chat.
(702) 900-8871
reservations@nightlifeunlocked.com
Days & Hour of Operations
Friday - Sunday. 11am - 5pm