Circa Stadium Swim – Las Vegas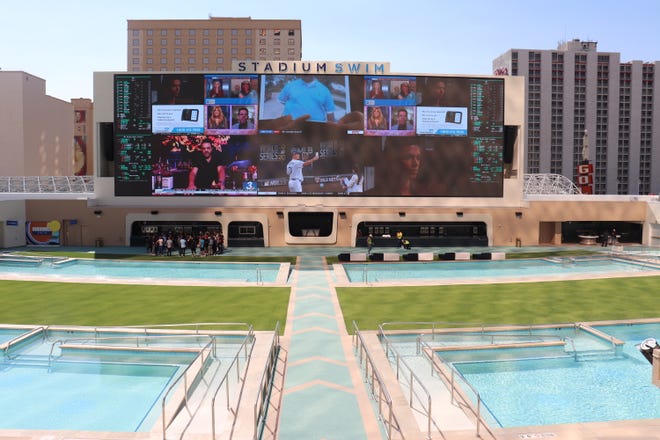 If you are planning on visiting old Las Vegas on Fremont Street you must visit Circa Resort & Casino. Fremont Street is an experience in itself but Circa Stadium Swim is the bee's knees for anyone interested in watching their favorite team while enjoying a Vegas-style pool party at the same time. While you're there you might as well throw some money on the game to make it more interesting, just avoid betting with your heart or taking advice from the beautiful girl that is wadding in the water next to you. We have found that the answer is always yes to whatever trance the girls put us in.    
Stadium Swim is an entertainment center with a temperature-controlled pool that will be open 365 days a year.
Take a look inside the amphitheater before you book below: 
135-foot Big Screen 
It's hard to miss. Soon as you walk in you get an eye full. The first thing you see entering Stadium Swim is the giant 135-foot screen overlooking the pools. This is where guests will be able to catch the biggest games on game day – poolside.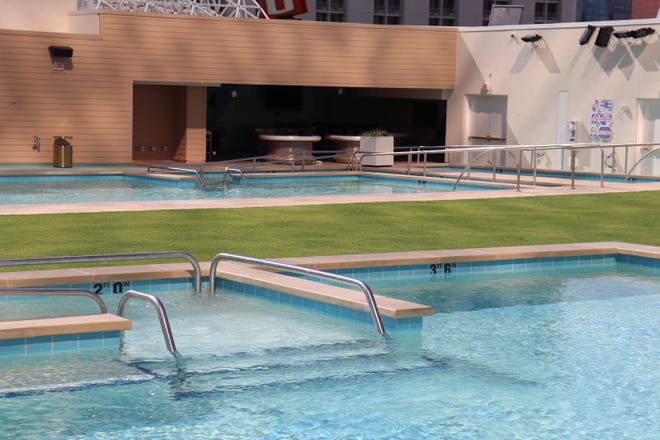 The Pools 
The tiered stadium like space will have six pools and two spas covering 15,756 square feet.
The Sports Book
There is nothing better than spending the day at the pool watching and placing bets on your favorite sports.
Poolside Services 
Stadium swim has 30 cabanas and super cabanas that can hold up to 25 guests. For smaller groups, there are 340 chaise lounges, 38-day beds, and eight poolside boxes available for guests to purchase for a beverage minimum by the hour. 
Stadium Swim VIP experiences come with tableside services, dedicated servers, towel refreshment, and luxury couches.
Interested in other pool parties in Las Vegas? Check out these other options:
Wet Republic
If you have any questions feel free to reach a host at Nightlife Unlocked via the Whatsapp function or EMAIL. 
Rather talk on the phone with a host? Schedule a time to chat below: