OMNIA, Las Vegas IT Club On The Scene
Now located where the former club Pure used to be, the new mega club in town, Omnia Las Vegas, was brought to fruition by the same group of people who created Hakkasan at MGM Grand. This 75,000 square foot venue underwent millions upon millions of dollars worth of renovations and decided to toss aside the white, ethereal, 90s vibes of Pure.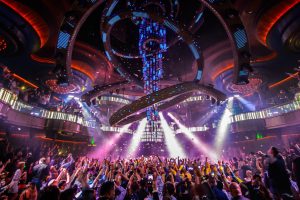 Sia, Take Note
It's aesthetic has been replaced with a darker, more modern feel, accentuated by the multimillion-dollar chandelier hanging above the middle of the dance floor, which resembles a futuristic spaceship, that everyone should take at least one ride on while they're there. Why spend major bucks on a chandelier, you may ask? Because (at the risk of sounding like Bill Nye the Science Guy), this chandelier is a masterpiece, featuring eight ringed circles that slowly cascade from the ceiling, while simultaneously projecting lights (and lasers?) that appear to move and dance with the music played by top-notch DJs such as Afrojack and Calvin Harris. It really is a sight to see and will stop even the most cynical tourist or partygoer in their tracks when it starts to whir into action.
Crowd Control
Get a better view of the entire scene and more from the second level of the club, where you may actually have space to breathe and move around without fear of losing an elbow or gaining one in your eye socket, from one of the many innocently crazed dancers found on the first level. Omnia Las Vegas also has a pristine looking terrace, that overlooks the Strip and offers an exclusive VIP area, the Heart of Omnia. Lounge your heart out in this coveted spot, where everyone who's anyone is clamoring for access in.
Word to the wise? Make sure to dress to impress if you want to be noticed or given any kind of preferential treatment, and for the love of God, please pre-game heavily (but not sloppily) so you don't 1) break your bank account or 2)break someone's arm off as you wait in one of the many lengthy lines for a drink at the bar. Patience is a virtue, they say, so try to simmer down in before you sidle up to the long-ass line at (each) bar. 
The Club Scene
Just remember, the party gets started late in Vegas, so please go to a bar or two before heading straight to the proverbial lion's den. Commonwealth on Fremont St or Atomic Liquors are both in downtown Las Vegas and can be great party starting locations. Then you'll be ready to hit the REAL dance floor. Newcomers, you HAVE to make it a point to check out Omnia, Las Vegas dance club of the summer (as its otherwise known). Don't end up regretting your decision to go elsewhere instead.
Facts? It's open Tuesday, Friday, and Saturday from 10 pm onward. Located in Caesars Palace. Enough said.