Best Vegas Pool Parties of 2018
Best Vegas Pool Parties of 2018
It's that time of year again…where a party atmosphere like no other unleashes itself in the city of sin. Read on to discover the wildest, top Vegas pool parties for this summer's season.
Las Vegas has changed the typical concept of a pool party into something much bigger, that involves earbursting music, dancing, scantily clad women and an insane amount of alcohol. With so many options to choose from, it can be overwhelming to navigate the pool party scene. Whether you want to get down in the best of the best luxe spots in town or if you're looking more for a party that comes with tasty treats and exotic drinks, here are some of the best places to day drink your day away in Vegas.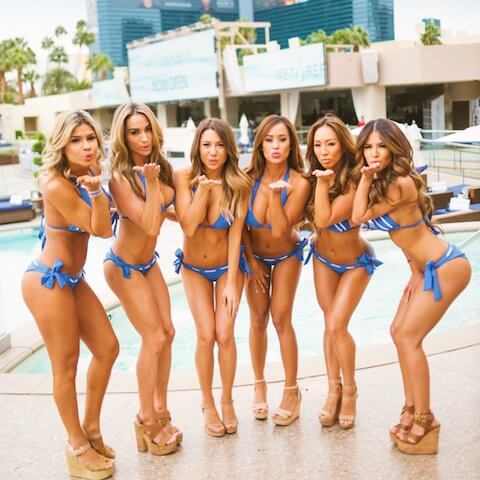 If you're wanting to attend one of the best Vegas pool parties, look no further than Wet Republic at MGM Grand. Yes, you need to get there early. Yes, it will be packed. But the upscale experience and the music alone are worth both annoyances. Allegedly, Calvin Harris, Steve Aoki, and other DJs have been known to stop by, and since the DJ booth is front and center, you'll get plenty of up-close views of whatever DJ is performing.
As everyone gets hyped up and starts dancing, the security does a great job of making sure there are no major injuries. Safety first, even in Vegas! With swimming attire required (dress to impress, ladies!), and beach bags are forbidden (you can rent a locker if needed), just make sure to be in-the-know before heading out to one of the best pool parties in Vegas.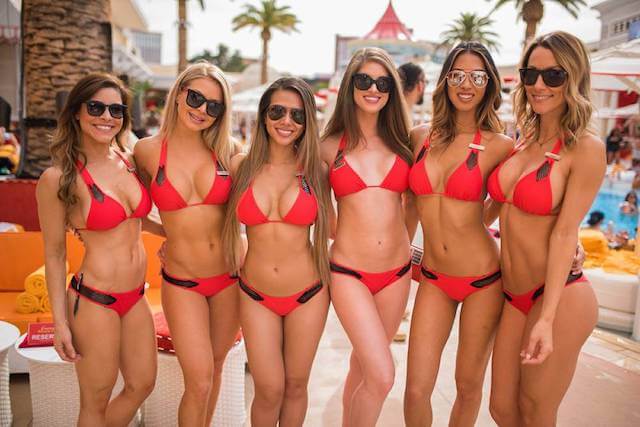 There are people who come to Las Vegas solely to partake in this pool extravaganza. Picture it: 60,000 square feet of three-tiered pools, surrounded by 40something feet tall palm trees, luxe chaise lounges, cabanas, couches and daybeds (with their own private safes) and all of it coated in coconut-scented sunscreen and white-hot sunshine. Encore features 26 cabanas complete with personal fridges and state of the art televisions…what's not to love?!
There are spots to cool off in the form of lily pad floats to lounge on in the shallow parts of the pools- or you can dance under one of the showering poles scattered throughout the resort. Want another option? Try out your luck in the gaming pavilion and gamble your stresses away (hopefully).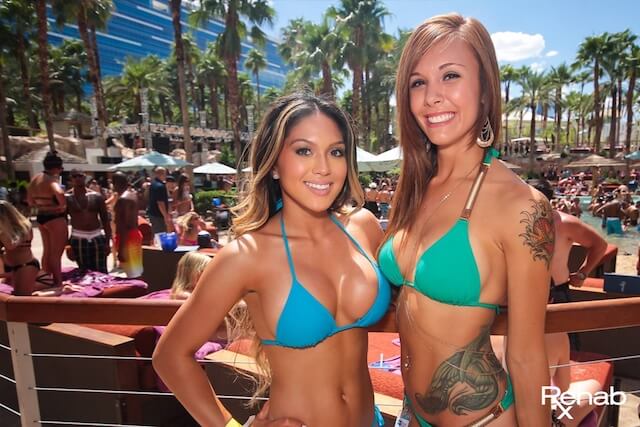 Its name is ironic, considering you may need a dose of ACTUAL rehab after a day spent drinking and frolicking at one of the legendary pool parties. Although this day club isn't right on the Strip, it still is known as one of the top Vegas pool parties in the city. Some choose the VIP experience, where you are able to enjoy the scene from the privacy of your own cabana and/or private pool.
So how has this venue, that's been open for over a decade, continue to attract new patrons daily? It's a delicate balancing act of offering a little bit of something for everyone: the high brow divas, bachelors and their "bros", and even the skeptical business crowd, just in town "for work". Nowhere else will you see dreadlocked rappers sitting next to good ole' country boys, side by side with fanny pack wearing tourists and retired widowers.
This hopefully serves as a good starting point for your gateway entrance into the world of day drinking pool parties in Vegas. Be sure to tag your location (especially if you're a single lady!) and start uploading pics as soon as you land. Promoters and influencers will reach out and contact you with invitations to events….and if not, then just head out to the Strip, with your sexiest swimsuit and your strongest SPF slathered on!