The Best Las Vegas Pool Parties
With the warm weather is beginning to roll into Las Vegas and the party scene is getting set to move to the pool. If you've not been to one of the Las Vegas pool parties then you might not know what to expect. This is nothing like a neighbors pool party that you may be imagining; Las Vegas pool parties are most defiantly wild. Imagine bottle service in your favorite nightclub. Now imagine, instead of being in the sweaty heat of the club you are all outdoors in your bathing suits. There are fresh drinks being served to you, the DJs are amazing and there is a pool right in the center of the action. In Vegas you don't even have to wait for nighttime for the part to begin; you can enjoy these parties any time of the day. Here are some of the best pool parties in Vegas that you should check out, whichever you pick you are guaranteed to have a great time.
Top 5 Las Vegas Pool Parties
Wet Republic has been one of the top Las Vegas pool parties for years. It adds a little extra flair with their 6,000 square feet of saltwater pools. The whole space is a staggering 25,000 square feet of partying, and it draws the crowds to fill it well. The bars are extra-long and offer some delicious frozen drinks that are just perfect for the Vegas heat. They even offer VIP cabanas and bungalows where you can enjoy giant TV screens plush furniture, refreshing misting fan, private plunge pools and high-class bottle service.
The real pull of Wet Republic though is the artists that they are able to feature, being based at the MGM grand means that the DJs are world class.
This club just cries out "luxury" from the moment that you enter. The whole place is perfectly temperature controlled with misters strategically placed throughout the club. Again there are luxuriously appointed cabanas available with all the service you would expect of such a fabulous place.
In the main space, you are never far from one of the very well stocked bars. The attentive staff is sure to be able to find you something that meets your taste, no matter how obscure you like your liquor.
This Ibiza inspired tropical paradise has everything you could want for a daytime pool party. This club makes you feel like you are right on the beach, without the annoyance of sand getting everywhere. The food is to die for, space is expansive, and there are loads of cabanas and chaises just waiting for you to recline on them.
The specialty drinks that are served here are well worth a go, are you going to start with "The Clooney" or the "The Baja"?
If you are looking for a more sophisticated pool party experience then Liquid is the place for you. If you prefer not having to push through crowds to reach the bar, and you want to revel in luxury, then look no further. Tucked away in the Aria this venue is quiet and discerning. Well worth a visit.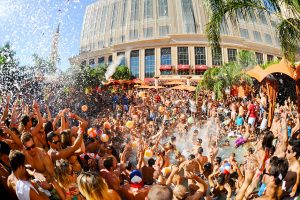 Like a venue plucked from the jungle this place is a little different. For those after a real VIP experience then look no further. The cabanas here offer air conditioning, flat screen TV with gaming systems hooked up to them as well as minibars. If you're feeling a little tense after all your partying, why not hire a masseuse to come and ease your knots. You can even join multiple cabanas together in order to accommodate a larger party, or just to have more space to your selves.
For fans of EDM, this is the place to come as they often host some great EDM DJs.