OMNIA LAS VEGAS – CAESARS PALACE
About Omnia Las Vegas
Conceptualized around the elements of opulent, classic design and modern technology, OMNIA Las Vegas is a stimulating nightlife experience by global hospitality company, Hakkasan Group. The multi-level nightlife destinations encompass a high-energy main club and balcony level as well as an outdoor terrace showcasing beautiful views of the bright lights of the Las Vegas Strip. The nightclub features a variety of musical talent spanning diverse genres for an all-inclusive nightlife experience. Filled with interactive features and luxurious finishes at every turn, OMNIA Las Vegas sets the stage for patrons who enter our world to discover the unexpected.
OMNIA's Main Room features multiple layers, an expansive dance floor, antique mirrors, and seats of rich leather – all underneath a gigantic kinetic LED chandelier that ascends, descends, morphs and transforms to the beat of the night.
Standard $1,000 – $2,000 minimum spend
GUESTS

: 6-8 GUESTS
Entry Level VIP Table
Tax and Tip Not Included!
Prime $2,500 – $3,500 minimum spend
GUESTS

: 8-10 GUESTS
A Step Above The Rest
Tax and Tip Not Included!
Premium $5,000 – $8,000 minimum spend
GUESTS

: 10-15 GUESTS
Great Location, Lets Party!
Tax and Tip Not Included!
Ultra Premium $10,000 – $15,000+ minimum spend
GUESTS

: UP TO 20 GUESTS
One Of The Best Seats In The House
Tax and Tip Not Included!
Bottle Service Price Range:  $1,500 – $15,000+
Open:  Tuesday, Friday, and Saturday.
Omnia Las Vegas Bottle Menu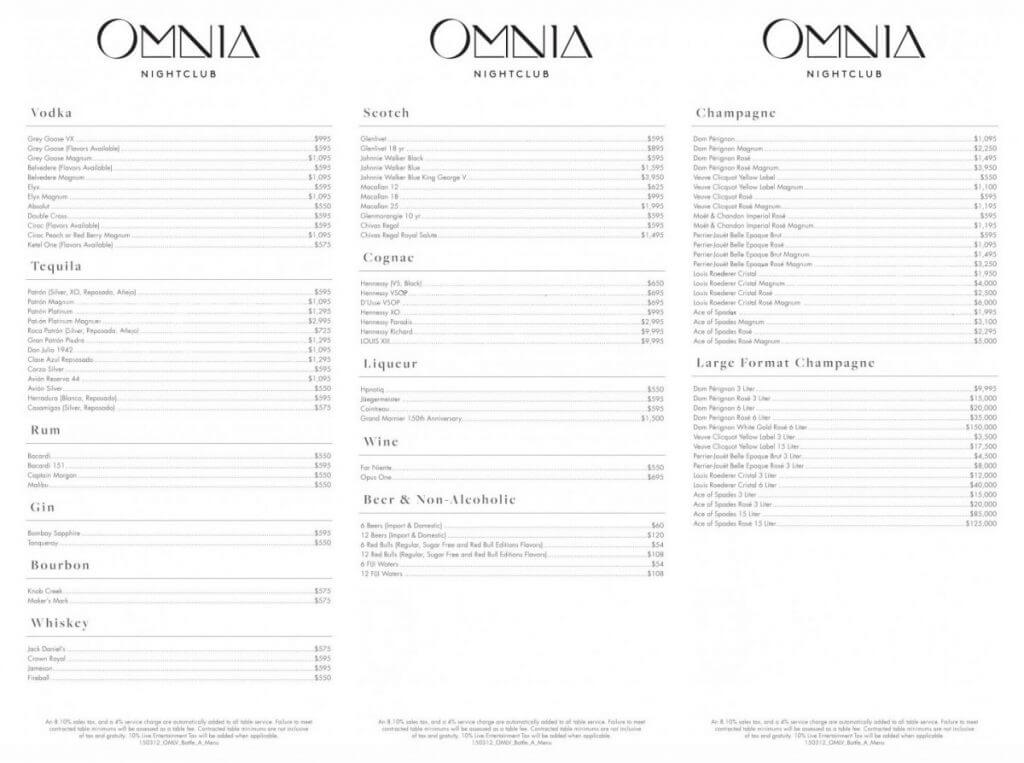 Make a Reservation
A NIGHTCLUB HOST WILL CONTACT YOU TO CONFIRM YOUR RESERVATION DETAILS
Need Help?
We are more than happy to assist you. Our team is available via phone and live chat 24/7.
Days & Hour of Operations
Tuesday, Thursday – Sunday, 10pm – 5am